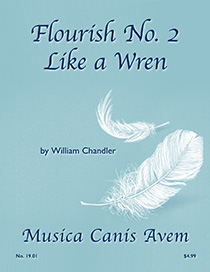 Flourish No. 2: Like a Wren
by William Chandler
About Flourish No. 2
William Chandler wrote and recorded Flourish No. 2: Like a Wren in the spring and summer of 2021.
During the recording, a Carolina Wren living just outside Chandler's home studio sang along with the guitar.
This "flourish" is a prelude-like solo for classical guitar. It is the second in a series of flourishes and is intended to develop dynamically and vibrantly from beginning to end.
Chandler, the founder of Musica Canis Avem, has studied classical guitar with Larry Long and Matt Palmer. He studied composition with composers David Van Vactor and William Kenlon. Chandler is also an energy and climate scientist and entrepreneur.
Palmer and Kenlon edited the composition. Ann Sarber designed the cover art. Kate Richardson copyedited the text.
Download the score for free through the rest of the pandemic.