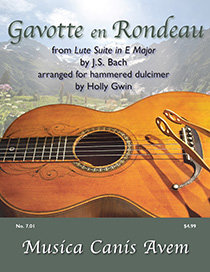 Gavotte en Rondeau
Arranged by Holly Gwin
To purchase the score, please navigate to our retail partner Strings By Mail.
About Gavotte en Rondeau
J.S. Bach wrote this gavotte en rondeau for solo lute in 1736-37 as the third of seven movements in Suite in E Major (BWV 1006a).

Holly Gwin, inspired by a performance of the suite by Chinese guitarist Meng Su, arranged it for hammered dulcimer in G major and recorded it in 2018.
Holly Gwin studied dulcimer with Maggie Sansone and Karen Ashbrook, and writes and arranges music in her studio on the Severn River in Maryland. She has also served in Congress and the White House to bring science to policy making.
The cover image, "Hammered Guitar," was created by HandymanIT. (HIT does not recommend playing guitar with hammers.) The guitar pictured was made by Italian Luthier Giavanni Gaibisso in 1933.
The cover design was created by Laura McConnell, Fun With Type, Baltimore, Maryland (www.funwithtype.com).