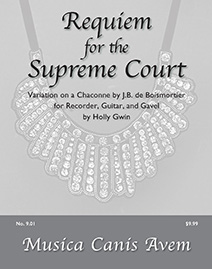 Requiem for the Supreme Court
by Holly Gwin
About Requiem for the Supreme Court
Holly Gwin wrote Requiem for the Supreme Court in the fall of 2018. Because it resonates piercingly louder in 2022, the score is available here for free download.
Requiem, as performed here, was recorded with Kate Richardson on recorder, Bill Chandler on guitar, and Gwin playing the rim of a bodhrán. Sound engineering was provided by HandymanIT.
Perhaps unsurprisingly, Requiem for the Supreme Court had 5/4 measures in 2018, a ratio that has widened to 2/1 since....
A quality paper copy of the score is available for purchase from our retail partner, Strings By Mail.
Cover design was provided by Laura McConnell of Fun With Type.