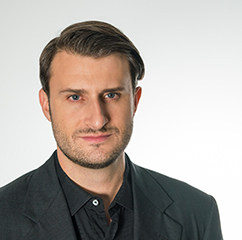 About the Gibbons Prize Winners
Away by Kristopher Magnuson
About Away
Magnuson places the genesis of Away in a simple improvisation one summer evening while playing guitar on his porch. A previously scored étude served as the emotional apex for the work. The piece embodies Magnuson's relatively recent embrace of simpler rhythms and more tonal and modal harmonic landscapes which provide a striking contrast to their more modern, esoteric counterparts. He chose to compose an idiomatic work to showcase the guitar's strengths.
Away utilizes an altered tuning, or scordatura, typical of the rondeña, a song form or palo from flamenco music. It exemplifies a wistful, rapidly shifting emotional terrain.
When asked to describe Away, William Kenlon, a Washington-based composer who served as one of the Gibbons Prize judges, put it this way. "I enjoy hearing pieces that evince awareness of how to write well for guitar as well as how to expand the vocabulary for the guitar. Away does that."
The above recording was made in a live concert held in 2018 at the University of Toronto with Daniel Ramjattan performing.
About Kristopher Magnuson
Kris Magnuson is a composer from Cleveland, Ohio. Recent works have been performed by the AMOK Experimental Music Platform in York, UK, and the Sound Thought Festival in Glasgow, Scotland.
He has also completed works for guitarist Rob MacDonald in affiliation with the Canadian Music Centre, the Genkin Philharmonic at SUNY Buffalo, and multiple electronic works for the Cleveland Ingenuity Festival. His Palos for string quartet, based on flamenco song forms, won first prize in the University of Toronto String Quartet Composition Competition, and received its world premiere with the Cecilia Quartet at the 2015 University of Toronto New Music Festival.
He received his DMA in composition from the University of Toronto in 2018, where he studied with Gary Kulesha. His dissertation, Gambier Mass, was scored for winds, percussion, electric guitar & delay pedal, and men's chorus. Future classical works will largely focus on melding the art/alt rock aesthetic with traditional notions of lieder.