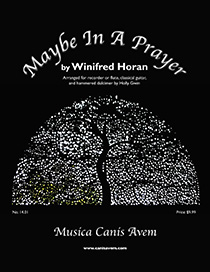 Maybe in a Prayer
by Winifred Horan

arranged for recorder or flute, dulcimer, and guitar
by Holly Gwin
About Maybe in a Prayer
Winifred Horan wrote Maybe in a Prayer when she was a member of the American group Solas. Solas recorded the piece on its Edge of Silence compact disc in an arrangement for fiddle, accordion, guitar, and synthesizer. Horan has recorded over a dozen CDs, including two solo albums, and toured widely. She is currently on the faculty of the New England Conservatory of Music. We are grateful to Winifred Horan Music for permission to arrange and record Horan's composition.
Holly Gwin arranged Maybe In A Prayer for recorder or flute, hammered dulcimer, and classical guitar in 2019. Her compositions and arrangements have been recorded by guitarist Matt Palmer, and Musica Canis Avem has published a number of her works. She composes in her studio on the Severn River in Maryland.
Rachel Isaacson, a well-known recorder and flute performer in the Washington, D.C., area, requested this arrangement as a birthday present for her mother, Susana Isaacson. Musica Canis Avem recorded Maybe In A Prayer in 2019 with Isaacson on recorder and flute, William Chandler on guitar, and Gwin on hammered dulcimer.
Chandler made the image used on the score cover, "The Symbol of Ahmedabad," in Gujarat in 2004. It depicts a carved stone window in the Sidi Saiyyed Masjid, which was built in the sixteenth century.
NOTE: After you complete payment, click "Return to Merchant" to proceed to download.