About the Gibbons Prize Winners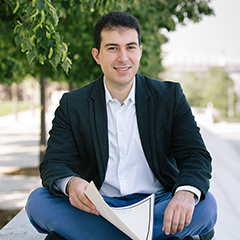 Guitar Etudes by Saad Haddad
About Guitar Etudes
Guitar Etudes is a set of six exercises for acoustic guitar in the spirit of the "double" variation writing of J.S. Bach. In this form, the music unfolds from one contrasting idea to another, and then presents variations of those statements in reverse order.
For example, the first three etudes of this piece involve intervals of major and minor thirds, augmented seconds and tritones, and major and minor sixths and sevenths, in that order. Then the last three etudes follow in retrograde, with the fourth etude featuring major and minor sixths and sevenths and the fifth etude reiterating the augmented seconds and tritones of the second etude in a totally varying manner. Of course, the last etude rounds out the work by further exploring the first etude's plunge into triadic territory.
The recording heard here was made by guitarist Tim Callobre. The score for Guitar Etudes may be purchased here (note: this is an external link).
About Saad Haddad
Born in the state of Georgia and raised in California, Haddad holds degrees in composition from the Juilliard School and the University of Southern California, where his principal teachers included John Corigliano, Mari Kimura, Bruce Broughton, Frank Ticheli, Stephen Hartke, and Donald Crockett. He currently divides his time between Los Angeles and New York, where he currently serves as a Dean's Fellow at Columbia University. Haddad's music is published by Dib Press.

Haddad composes orchestral, chamber, vocal, and electroacoustic music. He achieves a "remarkable fusion of idioms" (New York Times), most notably in his work exploring the disparate qualities inherent in Western art music and Middle Eastern musical tradition. His music delves into that relationship by transferring the performance techniques of traditional Arab instruments to Western symphonic instruments, while extending their capabilities through the advancement of technology. Haddad's will be or were recently performed by the JACK Quartet, Chicago Composers Orchestra, and Verdant Vibes, among others.

Recent distinctions include the Charles Ives Fellowship from the American Academy of Arts and Letters, the Barlow Endowment General Commission, the S&R Foundation Washington Award Grand Prize, the Jerome Fund for New Music grant from the American Composers Forum, the Palmer Dixon Award from the Juilliard School, the Aaron Copland Residency Award, and multiple awards from ASCAP, BMI, and the Vancouver Chamber Choir. His orchestral works have been performed by the American Composers Orchestra, Hangzhou Philharmonic, Illinois Philharmonic Orchestra, Kaleidoscope Chamber Orchestra, Los Angeles Philharmonic, Minnesota Orchestra, Symphony in C, and the symphony orchestras of Albany, Columbus, Milwaukee, New Jersey, Princeton, and Sioux City. His music has been broadcast on stations across the Unites States, including WWFM, MPR, WPRB, and KWIT/KOJI, among others.

For more information, please visit www.saadnhaddad.com.